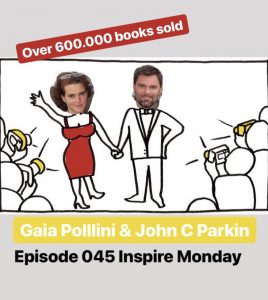 This episode is very special. For two main reasons.
First of all because John & Gaia (John C. Parkin & Gaia Pollini) are best selling authors and are running retreats with great success in Italy and England. You should check out their work at their website and see if something speaks to you. Then don't overthink it. Just book it – or get a book 😉
The second reason that your can hear much more about in this English episode with me, myself and I (aka Helena Risager) is, that I know John & Gaia through several years and have followed their work and been on their retreats. Being with them, around them and having been on several retreats have …well…changed my life. So that now – I'm more me. Not a better person or a more spiritual person. But definitely more happy and accepting of life – not fighting life as much as I used to. But following it. If that makes any sense. Well, it's hard to explain. Just listen to the podcast.
You will hear more about:
how you can feel less pain
more about attachement and why it's not really working in regards of getting you, what you want
more about WHY it's called the 'Fuck It' (and not letting go)
What separate John & Gaias work – and how they are different – in terms of how they approach the 'fuck it'
And more about how it all started
You can hear it all right here:
PS. Some of you have asked me what book I would recommend to start with. And I recommend this one. It's perfect and describes the F**k It in very simple terms.